PineRock, an award-winning global communications agency aimed at creating real engagement and real outcomes, announces the expansion of its sales team with Peter Gentile now serving as PineRock's Senior Vice President, Client Services.
"Peter is a terrific addition to the PineRock team," shares EVP and Chief Revenue Officer, Joe Doyon. "He's thoughtful and savvy and cares deeply about making a difference, which is what we strive to do every day at PineRock."
Gentile brings 25 years of industry experience to the PineRock team. Most recently serving as Vice President of Sales at Ovation, Peter specializes in owning the client relationship from day one, leading teams from prospecting and proposal through the complete lifecycle of a project.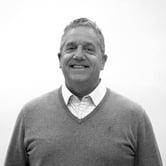 "I take a people-first approach to my work," Peter says. "I feel like I'm joining PineRock at the perfect time in my career. The people are exceptional, the teams work hard, and their culture is unmatched. I deeply respect and trust my teammates, and that trust and respect will allow us to create incredible work for our clients."
CEO and Founder, Ed Romanoff, adds, "Peter intuitively embodies our service-mark, Real Engagement, Real Outcomes, and recognizes the value in connection—his authenticity and expertise in our industry make him a great addition to our team."
Peter has worked across a multitude of verticals throughout his career with a strong background in the tech space, including user conferences, sales kickoffs and product launches. His experience allows him to help teams tell customer's stories in unique ways through a variety of media and content platforms. Gentile resides in Boston, MA, with his wife and three daughters.