Yesterday I had the chance to check out the Klaxoon Teamwork Tour which rolled into NYC for a sneak peek of their newest product features and some hands-on demos.
The tour itself was impressive. Approaching Flat Iron Plaza, it was hard to miss their big, bright, and pink mobile unit. The demo itself took place in a double expandable tractor trailer, accessed from the rear via a custom entrance with glass doors and a flip up awning.
When I first entered the trailer, I found several staffers eager to greet me, take my coat, and offer a beverage or snack. Noémie, the Regional Sales Manager for Klaxoon introduced herself and after some pleasantries, brought me over to a kiosk which provided a high-level overview of their 3.0 version of the product. Having seen earlier versions I felt it would be a great addition for some our client events that needed secure internet networks via the Klaxoon Box and the ability to share info at meetings.
She explained that the Box is its own product now and the latest release, which will be coming out officially next week, has matured into a cloud-based suite of apps. This was way more than I had expected!
The first things I noticed when I sat down was that the product demo was web based. Missing was the distinct gray Klaxoon box with the colored dots on the top, that I had used before. The interface was clean and intuitive. The large screen in front of me showed a series of productivity apps that I could choose from to tackle various daily tasks.
The demo presentation offered me two paths:
How I could use this cloud-based software at PineRock, and between our NY and DC offices to improve collaboration, work smarter, and ultimately cut down on meetings, and manage teams and projects better?
How I could use this product at client conferences and events to manage the creative process, provide employee engagement, create content that resonated with our audiences, and as a feedback mechanism.
How can Klaxoon help the PineRock Team work more efficiently?
One of the features they were most excited about sharing was meeting management. This is effectively a "new" way to make internal meetings more effective, concise, have more inclusion. And most importantly in my mind, more engaging. Administrators can access the Klaxoon app from anywhere and on any device and use it to easily develop an agenda, create pre-work for a meeting via surveys, quizzes or initial brainstorming activities, and incorporate those learnings into a slide share for an effective kickoff meeting or brainstorming session.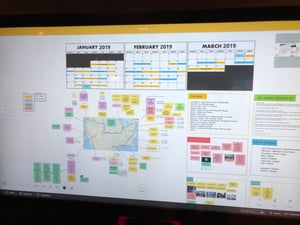 Here at PineRock I believe one the first potential uses is their new Brainstorming app. It is an invaluable tool for managing Project Creative Sessions or an RFP response. I really like how easily we can share ideas, create a project brainstorming area, and manage our teams' deliverables. Participation is easily from one's own device. Text, drawings, and pictures can be shared and displayed by our creative team instantly in our digital whiteboard/workspace. When it comes time to review the information gathered, content can be easily sorted and reviewed to show ideas gathered, view visual links for concept or technology demos. The administrator can help focus the conversation by sharing only the data that matters most using the zoom in and zoom out feature. Pretty cool.
How can Klaxoon be deployed for customer use?
I believe using the Brainstorm app for the agenda creation, topics for general session, and breakouts is a very appealing feature for PineRock teams when collaborating with our client teams.
With it we can:
Easily survey the audience before a show and ask them to provide content suggestions for the agenda.
Manage presentations via the slide sharing function and make sure that each presenter's content ties back to our overall theme and business objectives.
Pre-work the attendees and assign random teams for cross functional collaboration and continue this collaboration on-site and in-person. This would be very innovative and create a unique bond amongst peers that typically is has not been done before.
Incorporate live polling, Q & A and attendee surveys in each session. This information would be critical to the event organizers, so they could constantly review this feedback and potentially identify and correct learning gaps, issues, observe trends, or address topics that might need additional time on the agenda.
Based on the feedback from the event attendees, a word cloud of the most important topics could be created and referenced during and after the event. Post show surveys would be conducted via the app and also existing or new cross-functional teams could be formed for further learning, brainstorming or idea sharing. The networking and content sharing possibilities are endless.
Is Web Based Klaxoon a great fit for meeting and event professionals?
Before you run out and try a demo on your own, here are two thoughts:
First, if privacy or internet security is a concern, I'd recommend using the original Klaxoon Box. Yes, it still exists and it's great for private networks and it locks users into the Klaxoon network, so no distractions or surfing the net while using the Box. You have the complete undivided attention of your teams and an added level of security.
Second, for corporate meetings and events, let an Engagement Agency like PineRock help you navigate the process of a Klaxoon implementation. Often times Klaxoon experts and on-site staff is needed to help manage the content, monitor sessions, and analyze data for the best possible attendee experience. We also know from past experience what works and more importantly, what doesn't work for audiences of all sizes. And, we can often provide you with more favorable pricing!
Final thoughts on Klaxoon 3.0.
I am looking forward to this exciting new release and working with our internal and external customers to create better content and a foster much higher level of engagement for everyone we work with!